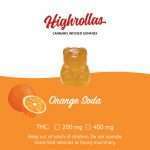 Highrollas Orange Soda Gummies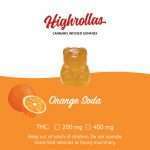 Highrollas Orange Soda Gummies
5 cannabis-infused gummies
Each bag contains 200mg of THC
Description
Reviews (0)
Refer a Friend
Q & A
Description
Highrollas Orange Soda Gummies will satisfy your sweet tooth while staying medicated. Infused with THC distillate you'll be getting nothing but tasty candy! Each bag contains 200mg of THC.
Full-spectrum gummies, you get all of the benefits from all the compounds (Terpenes and Cannabinoids ) in the Cannabis – These are infused with THC and not just sprayed on THC like other gummies.
*These edibles may not be suitable for people with diabetes. They also may contain traces of nuts.
*Please note that edibles have a delayed time of effect and effects can last much longer than smoking. Use caution when ingesting and don't keep eating more as it can take up to an hour to feel the full effects of an edible. Keep out of reach of children and please do not operate heavy machinery or drive while under the influence.
Please be advised that due to circumstances that are out of our control, such as summer heat and humidity, there is a risk that the edibles you ordered may change shape by the time you receive it.
Unfortunately, edibles changing in shape is not uncommon when exposed to heat but it does not make your edibles unsafe in any way. You may put them in the fridge to restore firmness.
We do not offer any reimbursement or refunds for edibles affected by these circumstances.
Q & A
There are no questions yet