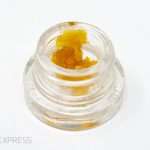 M.A.C Live Resin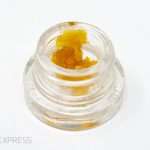 Quality: Live Resin / Extract
Sold in individually wrapped 1 gram packages
Keep live resin cool and in an air-tight container, preferably in a fridge if you can. This will preserve the terpenes and keep it tasting and smelling great for a while.
Leaving it out in the open with the lid off will cause it to dry out quickly, making it harder to handle and damaging the taste.
Description
Reviews (0)
Refer a Friend
Q & A
Description
Live resin is a type of cannabis concentrate that is produced using a unique technique—freshly harvested cannabis is frozen to a subcritical temperature prior to and throughout the extraction process, skipping the drying and curing phases.Live resin differs from other concentrates such as shatter, rosin, or other BHO products because of its high terpene content. A more complex terpene profile can deliver a different and more complex experience as well, because of the entourage effect—how all the different cannabis compounds work together to create an experience.
Fans of cannabis extracts tend to place a high value on flavor and aroma as well as effects, so there's a big demand for live resin concentrates.Most people dab live resin. To do so you'll need a dab rig and either a torch and nail or an e-nail. You'll also need a dabber tool—most likely something with a scoop on it, given live resin's consistency—to handle the concentrate and put it in the nail.
A good nail temperature is around 550°F—this will preserve the terpenes and flavors without scorching the concentrate.You can also put some live resin on top of a bowl, joint, or blunt for an added kick.
Please be advised that due to circumstances that are out of our control, such as summer heat, humidity and even time. There is always a risk that the live resin you ordered could turn to wax or budder by the time you receive it.
Unfortunately, live resin turning to wax budder is not uncommon when exposed to heat but it does not make your live resin any less safe or any less potent in any way whatsoever.
Placing it into the fridge will solidify it again.
We do not offer any reimbursement or refunds if your live resin turns to budder.
Only logged in customers who have purchased this product may leave a review.
Q & A
There are no questions yet